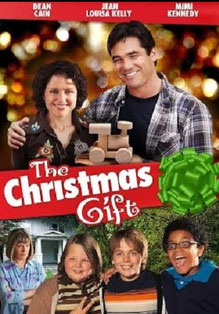 "The Three Gifts" also known as "The Christmas Gift" was released in 2009.  It stars Dean Cain, Jean Louisa Kelly, Mimi Kennedy, and Reginald VelJohnson.
To read my review click here.   I want to warn you this blog entry contains spoilers.
This movie is about Jack Green who inherited a southern Californian horse ranch and an all-natural toy factory in the barn. With his wife Cherie, he accepts taking in the three 'holy terrors', Henry, Mike and Ray, from his bossy aunt Rita's orphanage during renovations, until the holidays. Resourceful Mike and his buddies, Henry and Ray, prove handfuls, but Jack proves father-potential. The trio even goes on best behavior after overhearing the couple considers adopting, but that also means rivaling, resulting in trouble for everyone.
What's special about this movie?  Having been a teacher for over 20 years and working with children in foster care, I have a special place in my heart for older children in foster care.  Seeing the story of these three boys, believed to be too old to be adopted, is such a special message for everyone to see.
Despite the fact that you know the ending within five minutes or so, it's a lovely film.  It's about togetherness and relationships.  Jack and his aunt Rita, Jack and Cherie, Rita and the boys, and the three boys together. 
The stories of the boys will break your heart.  One survived a car accident his parents didn't.  The fact that they make a new family with each other shows the type of resiliency we all strive for.  There are scars, but they still have optimism and are giving and kind.
Getting to know Jack and Cherie is another part of the puzzle.  They don't have a lot of money; in fact, they're struggling.  They don't have children although they wanted them.  Yet they've built a life as a pair.  They are walking through life together.
I know this sounds like heavy and dramatic subjects, and they could be, but the way the movie is done it is light-hearted and a feelgood movie.
If you haven't seen it, I hope you give it a try.  If you have, I'd love to hear your thoughts on the movie.  Happy Viewing!